Another productive football weekend is in the books. Here's what caught my eye.
Incredible GameDay sign honoring da god, Lamar Jackson. Whoever made that sign should probably get paid, that's how good it is. Unfortunately everyone gave all their money to that kid from last weekend that literally just wrote his Venmo account on a piece of poster board. Speaking of Lamar, this has to be the earliest in the season that the Heisman race has been 100% over right? Having 18 TD's through three games and beating the #2 team in the nation by 43 will do that though.
And also meth, can't forget about the meth.
Obligatory "little kid dancing on camera" video. Look, this kids got moxie no doubt about it, and he's going to make a fantastic frat boy some day. But you're out of your mind if you think he has anything on the kid from last week who brought the Dab back from the dead. That kid was a star.
What's that? Futbol!? You bet your ass it's futbol. Kevin DeBruyne pretty much shooting a bullet through a keyhole with that filthy through ball. You try to do that in FIFA and the only two outcomes are the pass goes to the first runner and immediately gets stolen or it gets hit way to hard and goes right to the keeper. DeBruyne out here doing shit that you literally cannot do in a videogame.
Wild stat. Got to think at least a couple of those wins came on the arm of Carson Wentz. RIP Iowa.
Larry your thoughts: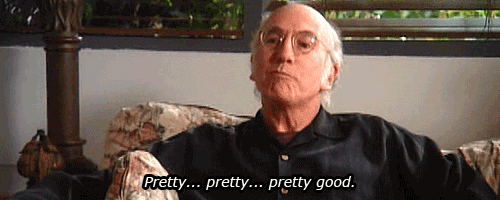 I'm not sure no matter how hard you tried that you could capture an image that more accurately depicts Ryan Tannehill's ability has an NFL QB. Got to give it to him though, he almost led an incredible comeback over the Patriots 3rd string QB. Almost.
The Patriots now have the most beautiful list of inactive QB's in NFL history. The worst part is you know all week everyone who can get in front of a camera is going to say the Pats have no chance of beating the Texans on Thursday and then they are absolutely going to beat the Texans on Thursday.
What the fuck? This one turned me into the Mr. Krabbs meme for a minute when I saw it. Be better every single other quarterback in the NFL, be better.
LA Rams fans are back baby! In all honesty though they need to get in a few more game reps before they bring out the fists on the big stage. That was a C- brawl at best. The 56 year old man screaming like he was literally being murdered was not a good look.
This guy though, oh man. He came to this game to do two things; look fly as shit in his Rams fedora, dad-shorts, and white socks, and kick some ass. And everyone already knows he looks fly as shit.
Hey Rams fans, let the Raiders fans show you how you really fight in the stands. You gotta give the people some pageantry, some showmanship. Asian (maybe hispanic?) David Carr had it in spades. I'm not 100% sure what his end game was but goddammit to I respect it. The old "try and scare the big guy off with some fancy karate moves and then break his glasses in half so he knows I mean business" move. Historically it has a very low success rate but sometimes it's the only card you have left to play.
That's all I got cause my phone died for the late game but here's my summary:
-Put a fork in AP cause he's done.
-Diggs is a monster.
-Packers are overrated.
-Mike McCarthy couldn't coach his way out of a wet paper bag.
-I cannot fucking believe I drafted Eddie Lacy again…I'm so stupid.
-Mr. Jersey
Follow On Twitter
@Blog30tweets
@De_Italiano